For me, New Year's resolutions are all about goal setting. I love that feeling of accomplishment when I can make something happen. For most of us, New Year's resolutions are about health, fitness, and diet. Basically, quitting all our "bad" habits and creating new "good" habits. Might I suggest that in 2018 you focus on doing something for yourself?! Something that doesn't involve giving anything up or starting some crazy new fad diet that you'll be sick of by February. I'm thinking New Year, New Smile!
They say your smile is the nicest thing you can wear – I think at some point, everyone has considered making some changes to those pearly whites. Maybe make your smile whiter and brighter? Or maybe you're interested in straightening the teeth or repairing a few chips or stains.
I would be delighted to help you achieve your goal, meet your New Year's resolutions, and get the smile of your dreams! And with today's technology, the possibilities are endless. Here's a quick summary of some very common cosmetic procedures available to you at Horizon Dental: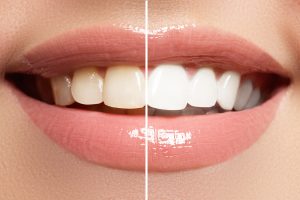 Teeth Whitening: Aging, tobacco, red wine, soda, coffee, and tea can all dull and yellow our teeth over time. With teeth whitening, years of staining can be erased from your smile in a matter of hours. We offer Zoom! Whitespeed, which is a professional in-office whitening system that can lighten your teeth up to eight shades in just one visit! Take-home trays for touch-ups are included, and the procedure takes about 60 minutes with virtually zero sensitivity as it's tailored to each person's needs!
Crowns or Veneers: Veneers are thin, custom-made "shells" of porcelain that permanently attach directly to your teeth. In comparison, crowns cover the teeth fully to provide extra support in case of existing cavities, fillings, or broken teeth. Both options can be used to fix gaps between teeth or improve the appearance of teeth that are badly stained, misshaped, crowded, or out of place and are designed specifically for you! You can choose almost any colour or shape, we can even match your favourite celebrity's or family member's smile.
Bonding: Bonding corrects gaps, stains, and chips by using tooth-coloured composite resins (filling material). It's a more cost-conscious option compared to crowns and veneers, but can only be used to repair minor issues and is not often used in a complete smile makeover.
Invisalign: By using a series of computer-designed, clear trays, Invisalign can be used to straighten crowded teeth or close spaces without altering natural tooth structure. Treatment can be completed quickly, sometimes in 6-9 months for simple cases – and no one would ever know you were wearing the trays!
I hope this post has got you thinking. If you have any questions or comments I'd love to hear from you. If you like what you see, please share with your friends and follow me on Google +, Facebook, or Instagram!
And if you're looking for a dentist in Kamloops, we are happily accepting new patients! You can contact us by clicking here!